1x drivetrains have taken the mountain bike segment by storm, and they are very popular with gravel bike pilots as well. Young Belgian company Classified Cycling [B3-408] says it offers the best of both worlds – by replacing the front derailleur with a two-speed transmission in the rear hub. 
Up to now, derailleur-based shifting systems have ruled sports-oriented cycling, with internal gear hubs mostly being used in the utility, trekking and travel segments. The main reasons for this have been weight, efficiency and shifting under load. Thanks to the introduction of wide-range cassettes, front derailleurs have largely disappeared from mountain bikes. In a quest for maximum tyre clearance, many manufacturers of gravel bikes opt for this kind of 1x drivetrains as well. While this saves space, weight and complexity, it also makes for significantly bigger steps between the gears – a thing many seasoned road cyclists can't get used to, as it messes up their cadence and workout.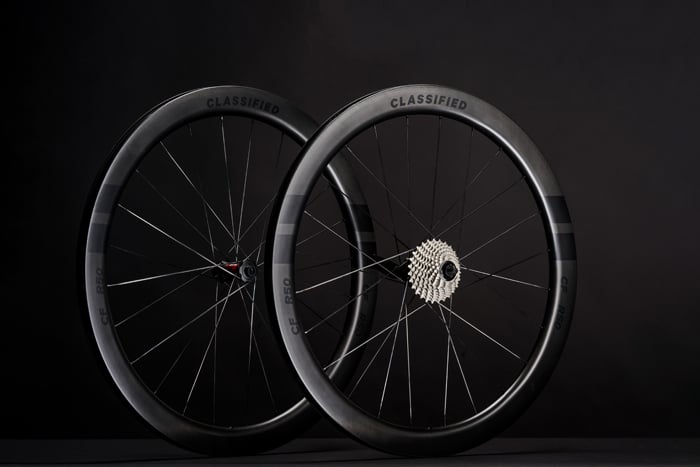 This is where Classified Cycling's Powershift system comes into play, as it promises to combine the advantages of classic drivetrains and 1x set-ups. At first glance, a bicycle with the Power-shift system looks like a 1x build. Only upon closer inspection you may notice the somewhat burly thru axle lever and the unique shape of the rear hub. Making good use of his vast experience building performance transmission systems for the automotive industry, Classified Cycling's co-founder Roell van Druten integrated a compact and lightweight two-gear planetary drive into the rear hub, offering a ratio of 1:0.7 – which results in pretty much the same gears as with a classic road bike crank with two chainrings. Seven years after the company was founded, the finished product has finally made it to the market.
Classified Cycling's commercial director Kristof Verpoorten explains how this works: "We have built our internal two-gear transmission into the rear hub, placing it on the drivetrain side under the cassette. It's actuated by a wireless signal sent from the handlebar module in the drops to the smart thru axle and then the hub, and it's lightning fast as it changes gear in less than 150 milliseconds, with no risk of derailing the chain. The system uses a fraction of the power normal systems use for shifting as the energy required to perform the shift is not linked or dependent on the energy going through the system. The small amount of energy required is wirelessly transferred from the thru axle to the hub via induction coils." According to Classified Cycling, their Powershift system is on par with top-tier drivetrains with double chainrings in terms of weight. Since there is only one chainring the chainline can be truly optimized. With 90 percent of parts sourced regionally, Classified Cycling also looks well positioned in times of ongoing supply chain woes.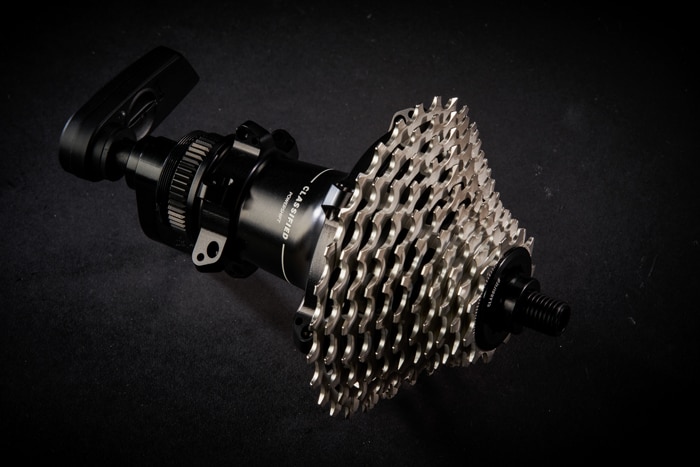 While only the company's own 11-speed steel cassettes were available at first, Classified is offering 12-speed compatible cassettes. The first couple of OE tie-ups were with bicycle manufacturers based in the Benelux region, namely Ridley Bikes, Jaegher and Isaac. The company is now working with German consumer-direct powerhouse Rose Bikes for their gravel flagship "Backroad x Classified" model, as well as launching their own complete wheelsets for both classic road and gravel bikes. These wheels and the fact that existing frames need no radical redesign to fit the Powershift system may well pave the way for the Belgian company to become an important OE supplier. And winning awards both at the Design & Innovation Awards in Europe and at Taipei Cycle Show's D&I awards this year won't hurt either.