Cargo bikes come in every size and shape, covering different needs from individuals and families to professional logistics. Eurobike's cargo area in hall A1 is well-booked, with the exhibitors ranging from true specialists and start-ups to big manufacturers.
When the cargo area debuted as a special exhibition zone in the large hall A1 of the Eurobike back in 2018, it was relatively small. One year later, it already filled twice as much floor space, attracting a number of new manufacturers such as Ca Go, A.N.T. and Johansson. Two years later the cargo bike market is as dynamic as ever. Incentives such as communal reimbursements for part of the retail price or tax-deductibles are keeping demand buoyant. The same goes for investments in cycling-friendly roads that can be seen in cities throughout Europe and beyond. At the same time, ongoing supply chain issues and high costs for sea freight are a big challenge for manufacturers.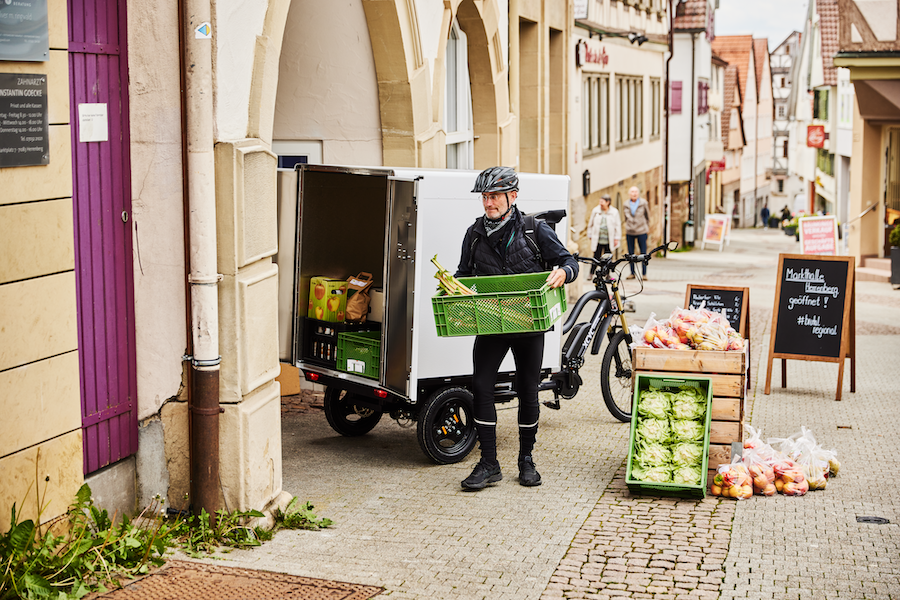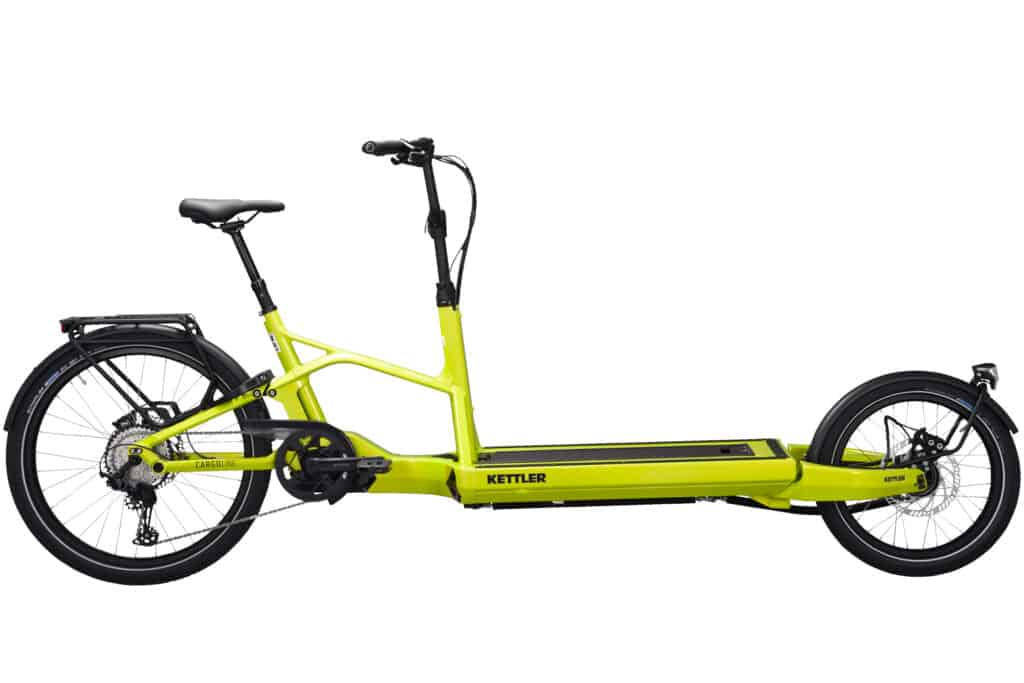 In the light of strained supply chains, some pure cargo bike specialists such as Urban Arrow and Ca Go have made only slight changes to their extensive line-ups in order to maintain production volume. One remarkable addition to the cargo bike market is Kettler Alu-Rad [A6-302]: Operating under the roof of ZEG, Kettler has a strong position in the German utility bicycle market. At Eurobike 2019, the brand launched its Cargoline series with a Cargo Line Cruise mid-motor and a 625 Wh Powertube battery from Bosch. Perhaps the most striking detail of the Cargoline series is the Ackerman steering invented by Dutch custom builder Elian Veltman and used under license by Kettler. While this steering needs a proprietary hub, it does away with conventional forks. The large cargo bay of the Cargoline series can be used as a flatbed or to mount various boxes intended for the transport of children or goods. The maximum allowed weight of this cargo bike stands at 250 kg.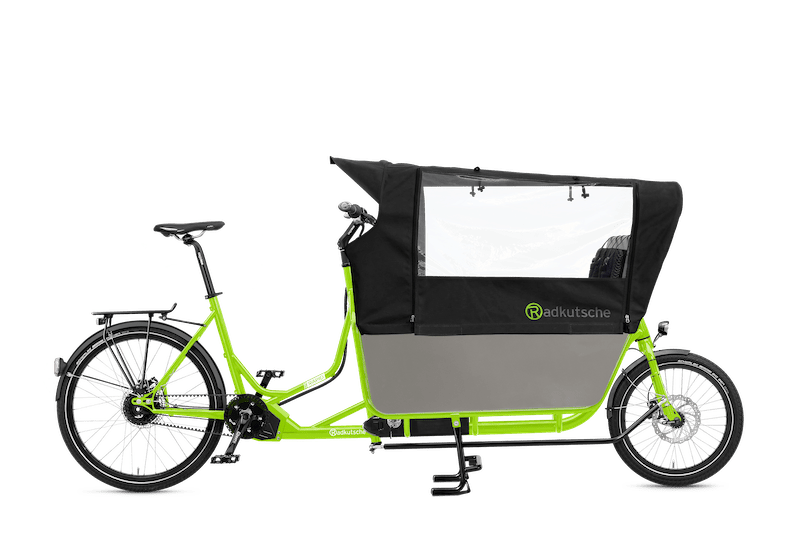 German manufacturer Radkutsche [FG-AK/4] is re-launching its "Rapid" Long John cargo bike for 2022. To cater to the needs of trade, messengers and ordinary users alike, this model can be outfitted with a selection of boxes and accessories. And those boxes can be customized as well to match the corporate identity of a trade. For those planning to use the Rapid to transport children, there's a spacious rain cover. Since Radkutsche has opted for Sachs Micro Mobility's powerful RS mid-motor that cranks out up to 112 Nm of torque, this cargo bike is particularly well-equipped for hilly terrain. Thanks to this support the maximum allowed weight of 200 kg can still be hauled uphill. The core business of Radkutsche are heavy-duty tricycles for professional use that can be customized according to specific needs.
Hailing from Tuscany, Italian manufacturer Bcargo [A1-609] bets on sourcing the steel frame, the cable steering system, the powerful mid-motor made by compatriots OLI, the canopy made of sailcloth material and the wooden box in Italy, with many other parts hailing from Europe. For the hydraulic disc brakes and the 10-speed drive train, Bcargo relies on proven quality from Shimano. The company's focus on domestic suppliers has been rewarded with shorter lead times in recent months. According to Bcargo's Giacomo Pratellesi the delivery time for the company's cargobikes never exceeded four weeks despite global supply chain issues. Of course, lowering the CO2 footprint is another reason to source within the region whenever possible. As for the flagship product of Bcargo for 2022, Pratellesi points to the 4.0 Family model as a real alternative to a car in urban surroundings.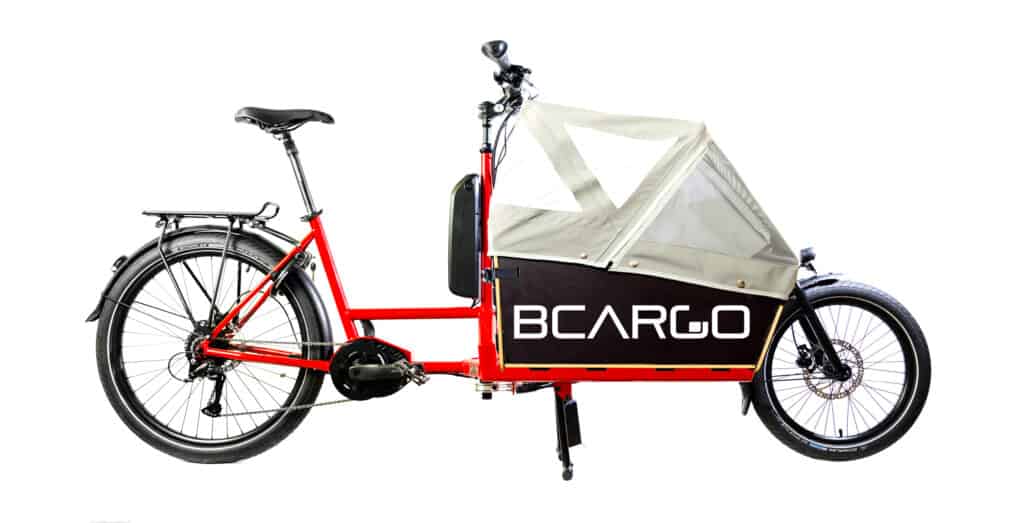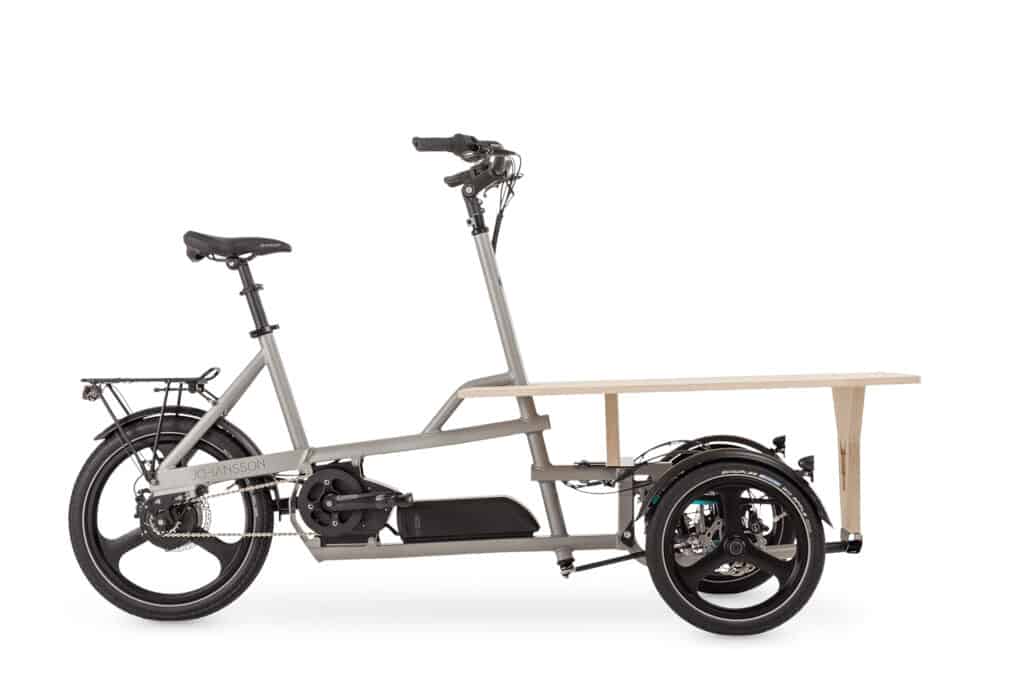 In a surprise move, newcomer Johansson [A1-610] brought a comprehensive line-up of cargo bikes to Eurobike in 2019, ranging from compact front-loader models to heavy-duty trikes for commercial use. As its steel and alloy frames are welded in Taiwan, this German manufacturer has been impacted by the steep hikes in sea freight costs over the past 12 months. Assembly is done at the company's headquarters in Regensburg. Using Brose mid-motors and locally sourced woodwork for the modular boxes, Johansson is keeping part of its supply chain within the country. The best-selling model to date has been the compact Oscar S trike that combines tilting technology and wishbone steering with two 16-inch wheels up front and a 20-inch wheel in the back. And while all existing models of Johansson carry Scandinavian names, the next model under development will be a longtail model with the very German name of Michel.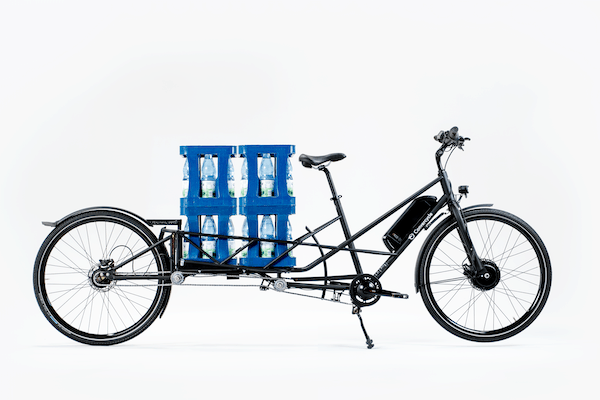 Speaking of newcomers, two small brands who debuted in Eurobike's start-up area in 2019 will be back with their interpretations of what a cargo bike should look like. Hailing from Frankfurt, Convercycle [ÜO-222] has come up with a construction that transforms from an ordinary bicycle to a cargo bike and back without the use of tools. By lifting the bike's rear, a loading tray that sits between the seat tube and the rear wheel can be unfolded or stowed away, depending on the need to transport goods or to maneuver in tight spaces. As an option, Convercycle offers an electric drive kit with a hub motor up front. Swedish start-up Ginkgo [ÜO-301] on the other hand may well be presenting the lightest cargobike, weighing a tad over 15 kilograms. Thanks to its large 700c front wheel and the stretched-out position on the bike, going fast is not only possible on this cargo bike but almost second nature.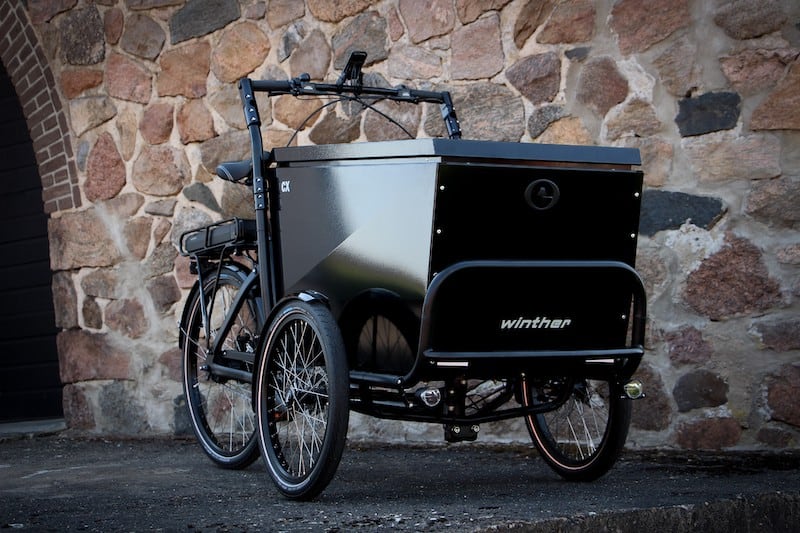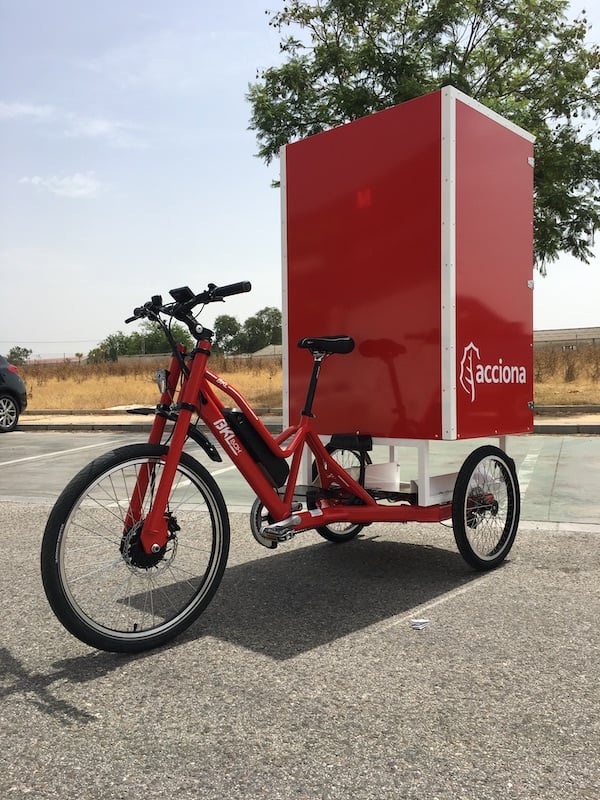 Danish bicycle manufacturer Winther Bikes [A1-623] built its first cargobikes back in 2006. The specialty of the brand is tricycles that offer a safe stand for loading – be it groceries, kids or heavy goods. For 2022, the Danes launch the CX transport model that comes with a large powder coated aluminum box with a capacity of 330 liters. Two dampeners on the lockable lid facilitate the handling, and to keep the CX model going when fully loaded Winther Bikes relies on Shimano's Steps mid-motor and an eight-gear Alfine transmission hub. Another specialist for tricycles is Spanish manufacturer BKL Eco [A1-627]. Its heavy-duty versions with large standard-size containers for goods have been in use by Spain's national postal services for some years already. BKL Eco has redesigned all aluminum frames with a primary focus on stability, safety and design. And with the TWC model the Spaniards will be launching their first longjohn-style cargobike for families and smaller enterprises at this year's Eurobike show.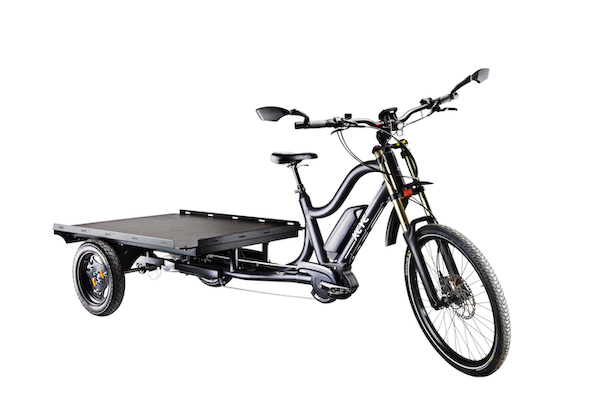 Last but not least, German manufacturer XCYC [A1-600] fully focusses on heavy-duty cargo trikes for commercial use, offering modular solutions to fit specific needs on the cargo area big enough to fit a Euro pallet. The biggest box has a volume of 1500 liters, and you may as well use a trailer to move even more cargo in one haul. XCYC's flagship Pickup Work 4.0 model weighs 100 kg, it can be loaded to a system weight of 300 kg. Thanks to the combination of Rohloff's Speedhub with its full 500 % range and Bosch's powerful Performance Line Cargo mid-motor, you do not need supernatural powers to get this cargo trike moving. And if you're into socially responsible products, XCYC clicks this box as well as the manufacturer is a branch of a non-profit operation.