Knit cycling shoes claim to be more comfortable, more breathable, and generally an ideal option for long rides in hot weather, but what they do not often claim to be is modestly priced. Carbon fiber outsoles make for unmatched stiffness and power transfer, but they also raise the price out of reach of budget cyclists.
The solution: F-11 knit
FLR saw this as a problem but did not see a quick-fix solution as the answer. FLR spent the 2020 racing season testing its top-of-the-line F-XX knit in the World Tour pro peloton to gain feedback from the world's best riders on how to improve the concept. The result is the new F-11 knit, which differs from the F-XX by only one feature: its nylon outsole.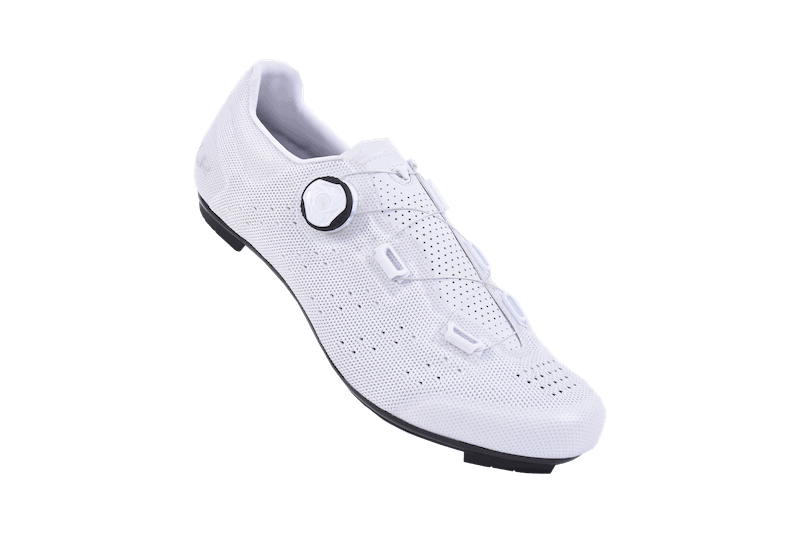 The shoe's R250 nylon outsole steps up in place of carbon fiber to optimize power transfer between the rider and the pedals without compromising on weight or comfort. The F-11 knit's seamless upper is the same exact XD-Knit as the F-XX knit, which features a triple layer of extra strong nylon yarn that's breathable in order to moderate temperature at the foot, and durable to help keep the foot in place. It also doesn't stretch, which means that the shoe won't deform and create drag over time. A single dial allows the rider to customize his or her comfort by securing the foot snugly in the shoe. For owners of Look KEO pedals, FLR has included a memory tab eyelet in the sole. The F-11 knit is available in either white or black, in sizes 38-47.
And the best part – is the price. FLR has kept most of its knit models around the same price as their corresponding classic shoe counterparts. The MSRP F-11 knit is $149.99 and is available ordering now.
FLR Shoes booth B3-303