HO CHI MINH CITY, Vietnam — When it comes to manufacturing bicycles for the West, China's loss is increasingly Vietnam's gain.
With China's extensive bicycle manufacturing industry under mounting pressure from the European Union and the United States, bike manufacturers — many of them based in Taiwan — are frantically seeking cost-effective alternatives to China.
That search often ends in the prosperous province of Binh Duong, north of Ho Chi Minh City, where a growing bicycle supply chain serves producers in Vietnam as well as in neighboring Cambodia — another important manufacturing hub for bicycles and a China alternative.
But Cambodia is now facing scrutiny from the EU. In February, the EU announced a 12-month investigation of its "zero tax" policy toward Cambodian-made goods because of human rights violations and the anti-democratic rule of Prime Minister Hun Sen. The EU, which offers "zero tax" status to designated emerging countries, could impose duties of up to 14 percent on Cambodian-made products, including bicycles.
China's problems have been better documented. The EU has long imposed anti-dumping duties on Chinese-made bikes, but more recently slapped duties on Chinese-made electric bikes as well. The U.S.-China trade war, which led to new U.S. tariffs on Chinese-made products, is also crimping exports to another important market.
Bike brands in the EU can barely keep up with demand for electric bikes and e-bike frames. Nor can they all afford to sell e-bikes made in the EU.
So all eyes are now on Vietnam, where a 14 percent EU duty is already priced in. Yet factory officials say production costs are not much higher than in nearby Cambodia. They worry more about finding enough young Vietnamese to work in their factories.
Binh There
Binh Duong features more than 30 industrial parks and zones that have been built with help from foreign investors.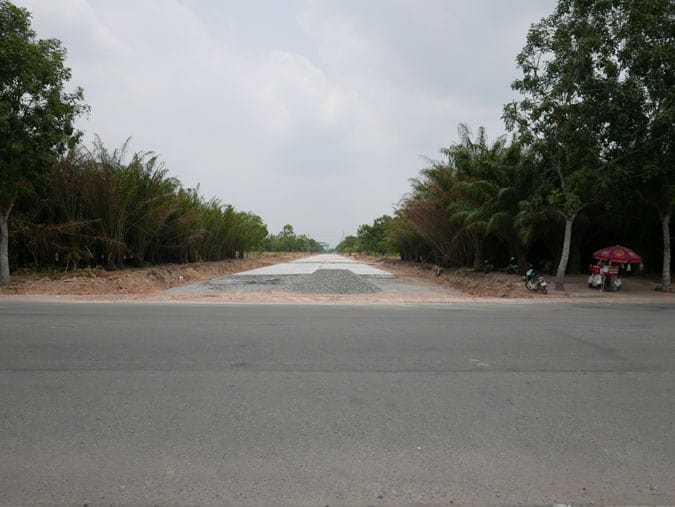 The country's Ministry of Planning and Investment says Vietnam now has some 325 industrial parks and zones, occupying nearly 95 hectares, or 235 acres. Nine more are to follow by 2020.
Vietnamese authorities are anticipating a boost as more companies relocate production from China. The government says international investment in 2020 could be some 80 percent higher than it was in 2010.
Drive through Binh Duong province and you see a huge number of buildings under construction, along with roads — east toward Vietnam's ports, and west to the Cambodian border. Cambodia's bike factories are all on the Vietnam border, as Cambodia has poor roads and lacks a port that can accommodate container ships. That means bikes made in Cambodia have to be shipped from a Vietnamese port.
The Vietnamese government is especially keen on Binh Duong as a manufacturing center. The government is building a brand new city — called, accurately if somewhat predictably, Binh Duong New City. Plans call for residential and industrial areas to be set amid expansive green spaces, making Binh Duong New City an appealing place to live.
Construction is managed by Becamex Tokyu Co. Ltd., a Japanese-Vietnamese joint venture. The city's architecture comes from Singapore, which is known for its future-focused urban planning.
Meanwhile, construction billboards around Binh Duong herald the imminent arrival of many Taiwanese bicycle manufacturers. These are not just big names, like A-Pro or SR Suntour, both of which opened their first Vietnam factories last year.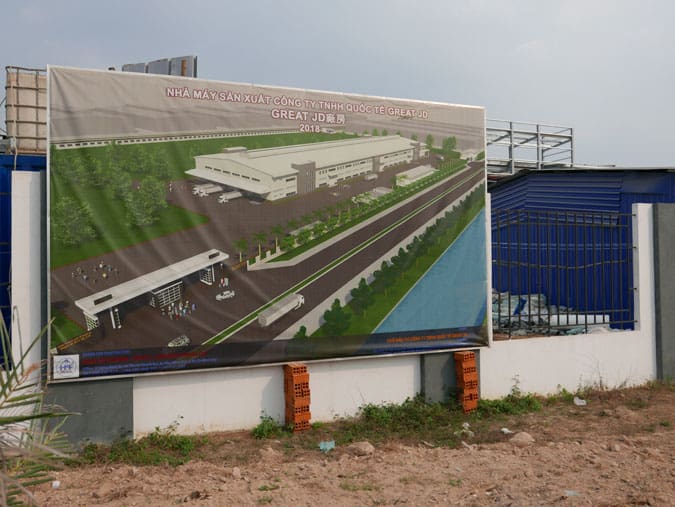 Other newcomers include JD, whose new factory will sit close to Astro-Vietnam's second plant. Taiwan producer Composite Gear is also building a carbon fiber facility in the same area.
Even major bike suppliers such as Merida are mentioned as potentially opening a plant in the area.
Crash Avoidance
The boom in Vietnamese production could backfire, as it has in China and potentially in Cambodia. As production expands, the country is more in the spotlight — and in the sights of those European bicycle manufacturers who, with the help of the EU, are attempting to curb competition from outside of Europe. Taiwanese companies that have been rewarded for their early bets on Vietnam fear that the EU could end the party by choosing to impose anti-dumping tariffs if Vietnam becomes too big of a threat to EU producers.
However, their fears may have eased somewhat on June 30, when Vietnam and the EU signed a landmark free trade agreement that should help cement Vietnam's status as a favored trading partner to the EU.
The EU has described the agreement as "the most ambitious free trade deal ever concluded with a developing country." It must be ratified by the European Parliament and EU member states and by the Vietnamese National Assembly.
Vietnam is a significant trading partner for the EU — it's the EU's 16th largest trading partner, and the second largest EU trading partner in Southeast Asia. Vietnam's main exports to the EU are telephones, electronics, footwear, textiles, clothing, coffee, rice, seafood and furniture.
A fast-growing economy like Vietnam's usually leads to higher labor costs. But factory officials say that doesn't worry them because they expect to offset higher wages by automating more of the production processes. Bicycle officials also are realizing that they shouldn't chase lower costs by relocating their high-end bicycle manufacturing operations every few years. After all, new factories — and the employee training required to staff them — aren't cheap.
Another plus is that Vietnam is seen as politically secure, unlike Cambodia or other emerging Southeast Asian countries such as Myanmar.
This special report looks at some of the Taiwanese bicycle manufacturers that have set up factories in Vietnam, along with a German outdoor supplier, also active in the bike industry, that sources from a Vietnam factory. We also take a quick side trip across the Cambodian border to another plant.
So don't be surprised by the "Made in Vietnam" stickers you will see as you visit Eurobike exhibitors. Expect to see many more of them in future shows.